Another weekend, another hike into the hills! We had seen that this weekend would almost fall on a new moon, and wanted to take the opportunity to finally see the stars, and maybe try some astrophotography in the pristine class II skies north of Whistler.
As we eyed the weather forecast in the preceding days our hopes fell, however; two days of solid rain in an otherwise dry and hot summer. Nevertheless, having already paid for the camping spot, we thought we would nevertheless make the best of it by spending some time outside.
The trail climbed steeply as we set off through the sub-alpine rain forest, the exposed roots and rocks making for challenging terrain. The skies were overcast, but no rain was yet falling, giving me hope that we might arrive at the lake before the storm.
After about an hour of ascent, and having covered only a couple of kilometres horizontally and a few hundred metres vertically, the rain started. It began with a light drizzle that we were able to avoid under the canopy of the trees, but quickly developed into a constant drumbeat of drops that promised to soak us in short measure.
The final half an hour was especially tough, as the trail climbs up through rocks and patches of mud; not an easy proposition in the cold and the rain!
Eventually we arrived, wet and ready to dry off. Luckily there was space in the emergency cabin at Wedgemount lake for us to hang our coats and prepare some warm food.
Later that evening we pitched the tent in a gap in the rain and settled in for the evening. I had been looking forward to falling asleep to the gentle pitter patter of raindrops, as the weather had denied us the stars, however the wind soon picked up and we were treated to the incessant flapping of the tent fabric into the small hours. We can't complain, though, our MSR tent held up admirably in the conditions; not a single leak and it kept the heat so well that we barely needed our sleeping bags.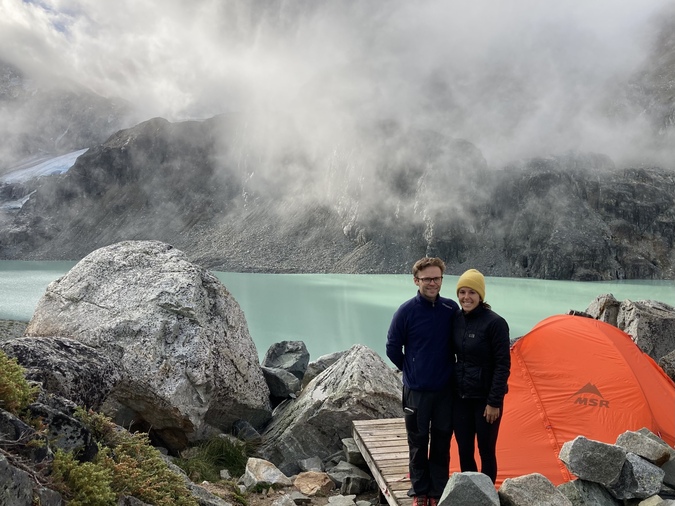 The following morning allowed us to get a better view over the lake and surrounding mountains and glaciers, though the peaks were still shrouded in clouds. After snapping a few smiling shots (we were not feeling very photogenic the night before) and preparing our porridge breakfast we were on the trail again, heading down. On the descent the trail is just as interminable (the combination of mud and roots being especially awful), and our knees were very happy to finally reach the car.
All in all, while it's pleasant to spend time in the hills, we found this particular trail to be a bit of a slog. If you don't fancy climbing a vertical kilometre in the forest, perhaps give this one a miss.
Gallery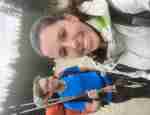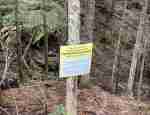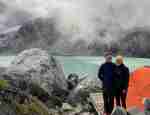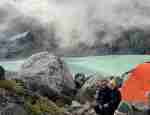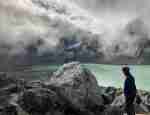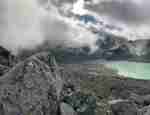 GPX Traces