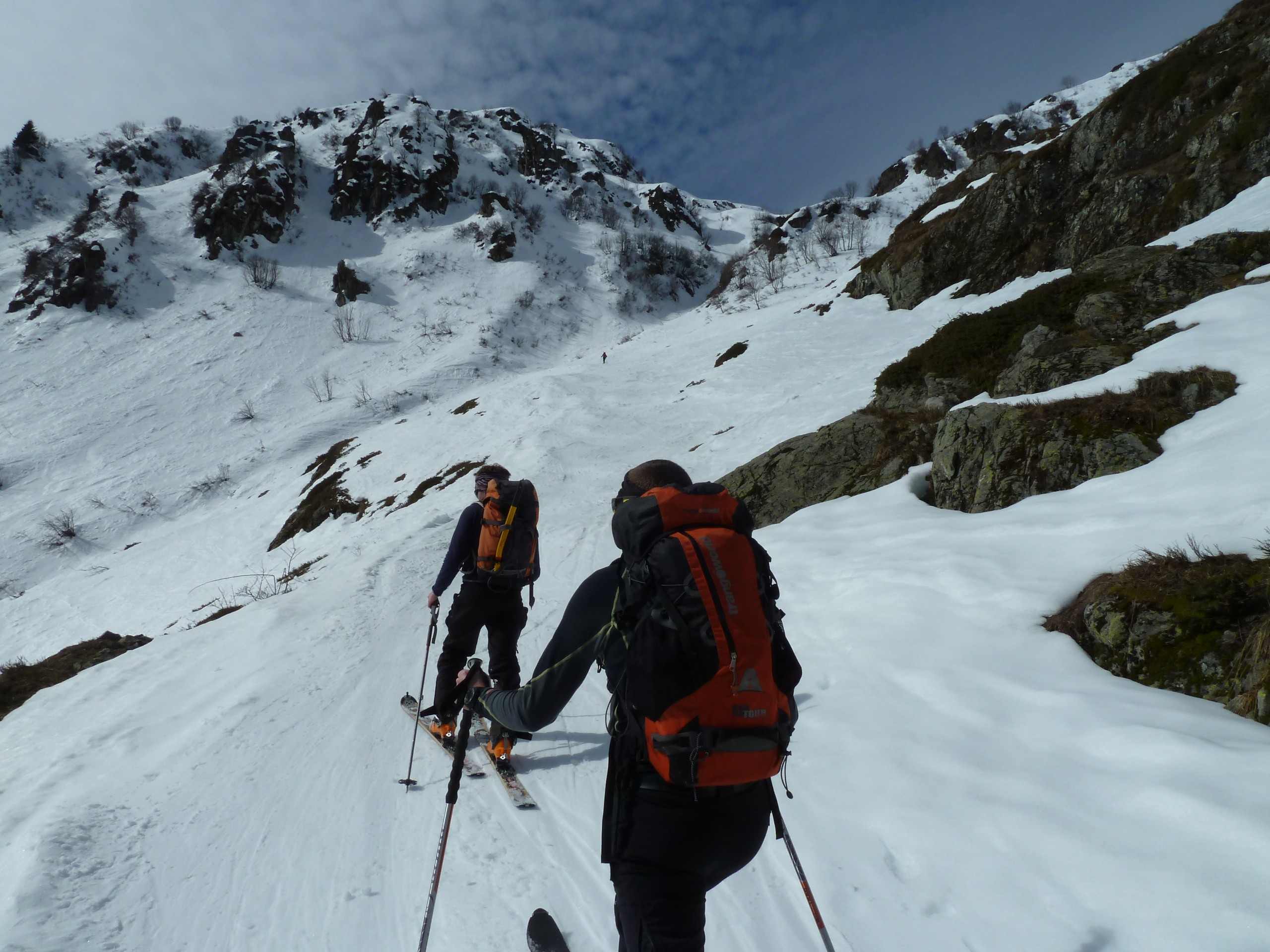 It's getting warmer and the snow is already disappearing from lower altitudes, this may well be the last ski tour of the season! This morning JB, Emanuel, Sebastjan, Mark and I met up with the aim of skiing the Grand Pic de la Lauzière, an impressive peak standing at 2829m of altitude, 1500m of which we would have to climb to attain the summit.
The day started well with Mark falling over while doing a conversion on one of the inital slopes, sending him tumbling down a few metres and severely injuring his pride. Once he was back on his feet we continued up into the valley, overtaking another group of randonneurs headed for the same summit. I was already flagging as we reached the first col which would take us across into the next valley before we started the last 500m before the summital slope. JB was already forging ahead at a punishing pace and I had no choice but to suck it up and press forward.
As we reached the col some 60m or so beneath the summit there were already others coming down off the top, giving us confidence that conditions were good to tackle this final challenge. The final 60m consisted of a steep slope (about 45 degrees) interrupted by a few rimed up rocks. The sheer drop to one side and the small cliff on the other, combined with the rocks, rendered this section impracticable on skis; luckily the topo had forewarned us of this and we were well equipped with crampons and ice axes. Starting up the slope I was already getting the impression that the climb down would be a more significant challenge than climbing up, as the snow was soft from the spring sunshine and would occasionally give way under your feet. I arrived at the top to find Emanuel already tucking into his celebratory summit cheese, which we all enjoyed. Mark and Emanuel both were somewhat aprehensive about the climb down, so I went first, kicking deep steps into the snow. We all arrived back at the col in one piece, and all that remained was to set our bindings to downhill mode and head for home.
A good day out was had by all. I hope that we will be able to get another tour in before the season is over, even with the rapidly melting snow.
Gallery